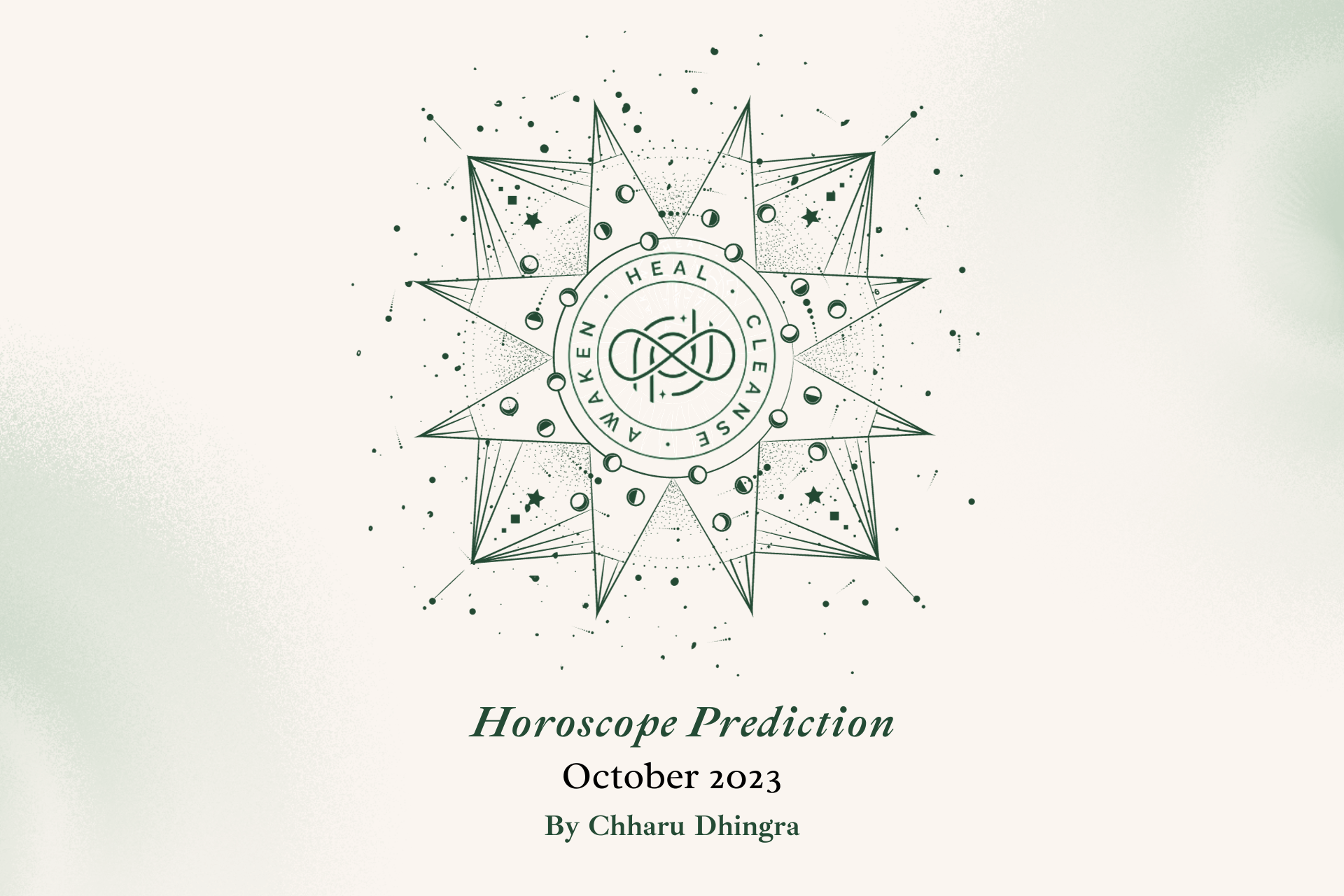 Pramay Healing Horoscope – October 2023
Hello Soul People,
Hello everyone! How has the long weekend treated you? It has given us plenty of time to reflect, reset and rejuvenate as we step into the final quarter of 2023.
Together, let's work towards making 2023 the year we heal ourselves and move towards prosperity, love and higher alignment
Aries
Family & Relations – Lovers and Cupid are blessing you as it's time to take your relationship to the next level and step into marital life.
Fitness & Health – Focus on your father's health and they may require some attention. Avoid eating junk food to keep gastric issues at bay.
Finances & Career – Lady Luck is on your side this month, especially if you have been preparing for govt jobs, civil services or teaching jobs. The increase in your intellectual intelligence will enhance your capabilities. This is also a great month to invest in property and real estate.
Lucky colour- Yellow

Lucky number-9
Tip- take a bath with curd and haldi on Fridays.
Taurus
Family – Siblings are someone we can't live with or without and this might be more true for you this month than before, but don't forget that blood will always be thicker than water. Every relationship requires compassion, nurturing and care so make sure you put in that extra effort before complaining.
Fitness – Some of you may experience hormonal changes that can leave you feeling drained and weak. Complement your balanced diet with some meditation and multivitamins to stay ft and healthy.
Finance – if your work or business was stuck in a hamster wheel of stagnation, now is when you'll start reaping the fruits of the hard work that you sow. Treat yourself to all things luxury.
Lucky colour – White
Lucky number – 6

Tip- donate 1kg of Gram Dal every Thursday in a temple.
Gemini
Family –
A change of season may require you to divert your attention to your child's health and needs. If you're planning on expanding your family, I advise you to wait a little longer. Those of you planning on moving abroad may see success in their endeavours.
Fitness – Dental issues might trouble you so don't procrastinate if they arrive.
Finance – It is a month of family life bliss for you as you will get blessings from the elders with high chances of getting ancestral property, and also the full support of the younger siblings, which will also give a boost to the family income. If your finances are stuck in loans, it'll get cleared for you in no time.
Lucky colour – Blue
Lucky number – 3

Tip- feed food to the labourers on Saturdays.
Cancer
Family – Your family life has taken a front seat this month and a holiday seems to be on the cards, giving you a lot of time to spend with your loved ones and make new memories.
Fitness – skin allergies may prevail, but don't forget to read why we think skin allergies occur in the first place.
Finance – it is not the month to go into debt, as they are likely to increase or you invest right now. You may find yourself to be the epitome of love so embrace it with all your heart. It is a very positive month for those in politics and power.
Lucky colour – Orange
Lucky number- 1

Tip – apply a saffron tilak on your forehead every day.
Leo
Family– Words cut deeper, than swords. There is a possibility of you not being able to convey your intentions with the right words which may lead to unnecessary misunderstandings. Think before you speak and have a good time with yourself. A new relationship can blossom for you, dear Leo.
Fitness- your mother might need extra care and attention with respect to health this month. Be careful of colds and coughs with seasonal changes this fall.
Finance- While your business will prosper and new partnerships will give you monetary gains, You have to be careful with office politics working against you. Avoid any conflicts at the workplace and have faith in your capabilities.
Lucky colour- Red

Lucky number- 5

Tip- Donate Moong Daal to needy people on Wednesdays.
Virgo
Family– Get ready to welcome joy, happiness and prosperity into your home. Unexpected gains and benefits from the maternal side will keep your spirits high and this is also a very good month for your mother. There will be love and respect between siblings, that otherwise were in contradiction with each other.
Fitness- Joint pain in the knees or body can be a cause of concern due to your hectic schedule this month. fluid intake can help with this problem to a great extent.
Finance– Now is a good time to invest in property and motor vehicles. Lady luck will continue to be on your side in your workplace, filling you up with energy to complete any task assigned to you. Those looking to start new projects will also see success but all of this comes at a cost, which will also hit your pocket.
Lucky colour- Pink
Lucky number- 2

Tip- put Alum in flowing water on Friday.
Libra
Family– Show your caring nature to your partner and communicate with an open heart. This will help you maintain respect in your relationship. This is an overwhelming month for you filled with mixed emotions and your partner can be your best support.
Fitness- It is advised to abstain from non-veg and alcohol consumption. Stress will be at its peak and may trigger your inciting. Your sleep might be a little disturbed but practice meditation and yoga to bring the calmness you desperately need
Finance- Money that you had hidden away and forgotten about might show up, giving you the expected gains. You might feel a little excessively drained with the workload as people you don't get along very well at work may be the ones dominating over you.
Lucky colour- Grey

Lucky number- 4
Tip- Visit and spend time with elders at old age homes and donate food or clothes for them.
Scorpio
Family– Don't think apples and say oranges. Misunderstandings between married couples are possible but you can easily navigate through these testing times with a strong communication foundation.
Fitness- Overthinking things can lead to constant headaches and it is advised to be one with Mother Earth to release any stress through meditation and nature walks.
Finance- For those of you planning to relocate and move abroad for education or work, This is a great month for you. Spiritually inclined people with psychic abilities like astrology and vaastu. Will see soaring success.
Lucky colour- Brown
Lucky number- 7

Tip- recite Vishnu Sahasranama every morning.
Sagittarius
Family- Spending time with friends and family will help you in uplifting your mood. For those of you in love, now is the time to make some serious commitments, introduce families, strengthen the bonds and take your relationship to the next stage.
Fitness- If you feel that your therapies or medications are not helping or improving your physical and mental condition, you will finally see progress in the treatments, much more than ever before.
Finance-  The cards show an expansion in your business and professional relationships but it will also cause a few unnecessary expenses. So watch what you spend and where. Investing in the stock market will give you favourable returns this month
Lucky colour- Silver
Lucky number- 9

Tip- Worship Lord Ganesha and recite the Ganesh Mantra.
Capricorn
Family-  Enjoy a peaceful time with your family and friends. This is a time to relax and rejuvenate. If you have been trying to convince your parents to a love marriage, the universe has your back this month.
Fitness-  your family will be healthy and happy. Just be watchful of your mother's health and ensure she is not overworked or stressed.
Finance- Those of you employed in a job that requires travelling can expect great monetary benefits. Ancestral property transactions will bring gains into the family. Use these profits wisely and plan your savings and investments
Lucky colour- Black
Lucky number- 3

Tip- Chant Budh Mantra to neutralise any negativity around you.
Aquarius
Family- You need to control your anger to achieve your desired goals. Patience is the key to handling all relationships. Don't go overboard in relationships and take things slowly and organically. It is always two of you in a relationship and you need to come to conclusions together. Spend time in each other's company and strengthen your bonds.
Fitness- Get an eye check-up done regularly as irritation or power fluctuations may bother you.
Finance- Your perseverance and hard work will bring you the recognition you truly deserve. You don't need to prove your worth to anyone, go with your gut and avoid confrontations with colleagues. Your work may present opportunities for you to travel abroad.
Lucky colour- White
Lucky number- 1

Tip- worship Lord Hanuman on Tuesday and recite Hanuman Chalisa.
Pisces
Family- Conflicts in your romantic relationships that were creating distances between you both will slowly start improving and stabilising. It is a beautiful phase to start new relationships.
Fitness- Seasonal diseases and allergies may bother you this month. Avoid intoxication and focus on your physical health and fitness.
Finance- Those of you involved in the metal business, beauty industry and catering businesses will prosper. It is a good time to buy automobiles.
Lucky colour- Dark Green

Lucky number- 7

Tip- Donate sugar or betasha to the less fortunate people on Fridays.
I really hope these help you in making the best of the opportunities and challenges that this month may bring with it for your sun sign.
Please keep in mind, that this is a general overview of your sun sign. For greater and more personalised insights you can book an appointment with me by messaging me directly or going to my website – www.Pramayhealing.com
Blessing you with abundant Health, Wealth and Divine Protection.
Love,
Chharu.