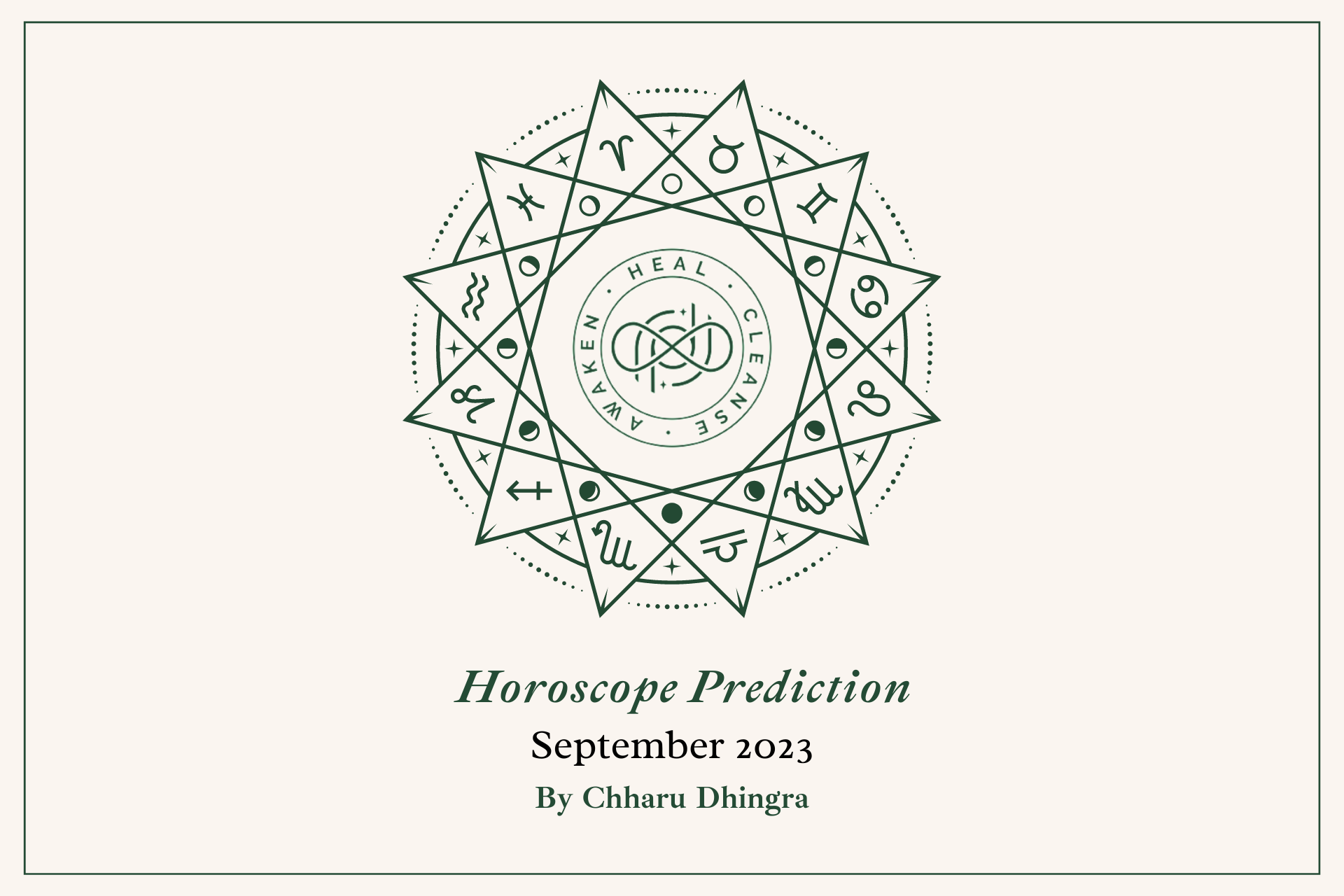 Pramay Healing Horoscope – September 2023
Hello Soul People,
Welcome to the last quarter of 2023!
With September comes the festive season full of celebrations. The wedding season starts and with a slight shift in the air, we also witness a change of mood and heightened emotions and anticipation.
While this is overwhelming for a lot of us, it can also cause increased stress, nervousness and conflict amidst all the festivities. It is therefore very important to stay calm and maintain temperamental equilibrium so that you can approach things rationally.
As we step into the 9th month of the year, I now present you my predictions for this month giving guidance on💰Finances and Career, 🏡Family and Relationships and🧘🏻‍♀️Fitness and Health.
Overall, here's what I have to say about your sun sign-
Aries
Family & Relations– Listen to your partner and help them achieve growth and success. Communication is the key to resolving any differences between the two of you. The month will bring luck to those in love.
Fitness & Health– If you have been suffering from any chronic ailments, this month will bring you relief through your efforts to get fit and healthy. Try a new dietician or a change in your exercise regime.
Finances & Career– Avoid getting into any conflicts with subordinates and the politics of the office. Let your present hard work shape your future growth in your workplace.
Lucky colour- Green
Lucky number-9
Remedy- Worship Lord Shani
Taurus
Family– All petty issues do not require your full attention. Resolve any differences rather than delaying communication and work towards developing a transparent relationship.
Fitness- You will be full of energy this month. Add Yoga and meditation to your daily routine as work will keep you busy and this will be your stress relief.
Finance– Shortcuts at work are not going to give long-term results. With sheer hard work and mental peace, you can see growth professionally and businesses will get new opportunities and investments.
Lucky colour- White
Lucky number- 5
Remedy- Offer water to Lord Guru & Shani Dev
Gemini
Family- If education is something you want to explore, your dreams are about to come true. Be careful of what you say or do intentionally or unintentionally, especially while speaking to your parents.
Fitness- Don't be lazy this month and include more vegetarian food in your diet. Excessive intoxication or unhealthy food can lead to gas or indigestion.
Finance- Foreign travel will be beneficial for your career growth. There is a possibility of you transferring to a new job that will bring financial growth.
Lucky colour- Pink
Lucky number- 5
Remedy- Offer food to the less fortunate.
Cancer
Family- Your partner has your best interest at heart. Their advice will help you so value it. Misunderstandings between family members should be resolved at the earliest and do not let it prolong.
Fitness- While meditation will help you release any stress that is bothering you, it is advised that you do not change your diet this month and stick to what you know suits your body.
Finance– Do not let your career take a toll on your well-being. Learn to balance. Improving your communication skills and relations with your colleagues can help you work more effectively by making the workspace more comfortable.
Lucky colour- Red
Lucky number- 2
Remedy- Offer food to the ants.
Leo
Family– Spend quality time with your partners and plan surprise dates and things you like to do together. You are fortunate and be grateful to have a partner who understands you for who you are.
Fitness- Seasonal changes can trouble you with a cold and cough. Channelise your energy positively and look after your health. Remember that health is true wealth.
Finance- It is important to work in synergy with your colleagues and take their opinions into consideration before you make any decisions in the office. This is not the month to take risks or gamble. Invest your finances only after proper due diligence.
Lucky colour- Grey
Lucky number- 7
Remedy- Every Thursday, offer yellow flowers to Lord Vishnu,
Virgo
Family– A court case or legal order that you have been waiting for is likely to come in your favour and increase your financial income. Learn from your past experiences to pave the way for a better future. This is the month you spend time and resources on your loved ones.
Fitness- Take care of your partner's health and don't let them ignore it. Be the mature one if you must because their health directly impacts yours too.
Finance– If you are feeling stuck in your workplace with a feeling that your efforts are not yielding the right results, seek expert opinion and rely on their expertise.
Lucky colour- Indigo
Lucky number- 6
Remedy- Worship Lord Ganesha and offer Durba.
Libra
Family– Don't be hard on your loved ones as we are all humans at the end of the day. Accept that all humans are different and love them and their uniqueness.
Fitness- If you feel that your energy levels are low, improve your diet and explore interests that bring you happiness and mental peace.
Finance- The planetary placements will make you work hard this month and may also delay fruitful results but patience and perseverance will help you achieve the success you deserve. Those involved in research and consultation services will achieve major goals.
Lucky colour- 1
Lucky number- Yellow
Remedy- Chant any mantra of Maha Lakshmi
Scorpio
Family– You may find your beliefs in contradiction with that of your family. Try to find a mutual ground of consensus. The support of your partner and your patience will help you weather all storms.
Fitness- Headaches, body aches, or gastric issues may trouble you, so be careful of your physical well-being.
Finance- You will see a growth in your career graph and if changing your job has been something on your mind, this is the month to do so. You will be able to balance your income and expenditure and always remember to plan for the rainy Day.
Lucky colour- Orange
Lucky number- 8
Remedy- Feed dough to the cow.
Sagittarius
Family- Family members will resolve any struggles and find happiness and contentment in relationships. You may be blessed with kids or receive good news about your children getting married.
Fitness- Follow a disciplined lifestyle to avoid any muscular issues.
Finance- Encouragement and support from your colleagues and your seniors will help you in realising your dreams. You may come across a great source of energy and financial resources, which will help you in planning your future investments.
Lucky colour- Silver
Lucky number- 3
Remedy- Feed food to Brahmins.
Capricorn
Family- Build your bonds stronger this month with your partner. Love them and compliment their qualities as you share strength and stability.
Fitness- You will be fitter than you have been in a long time and that will also help enhance your confidence. Just be careful of any backaches.
Finance- Foreign resources will yield profits. However, be careful before you enter into partnerships, especially towards the end of the month. Enjoy spending money on the luxuries of life.
Lucky colour- Beige
Lucky number- 4
Remedy- Light an earthen lamp of Ghee on Fridays.
Aquarius
Family- Avoid getting into arguments with your partners and take care of your children's health.
Fitness- You will remain active this month which will improve your health mentally and physically.
Finance-Foreign trips are on the cards for you and may open new opportunities and avenues for you to progress professionally. People in the working sector will taste new success. Remember to not lose your temper and make rational decisions.
Lucky colour- Cream/ Off white
Lucky number- 9
Remedy- Feed bread to street dogs.
Pisces
Family- Take care of your mother's health. It is important that you have control over your emotions which will help you be practical and also lead you in the right direction to make any decisions.
Fitness- Long-term ailments that have been bothering you will finally be resolved this month.
Finance- Those of you, who have been on the lookout for jobs and opportunities for a long time, will finally find permanent solutions. Use your money in the right way, and overcome any financial issues that may arise with positivity and rationality. If you own any properties, they can be a good source of rental income.
Lucky colour- Pink
Lucky number- 4
Tip- Offer water to Lord Sun from a copper vessel.
I really hope these help you in making the best of the opportunities and challenges that this month may bring with it for your sun sign.
Please keep in mind, that this is a general overview of your sun sign. For greater and more personalised insights you can book an appointment with me by messaging me directly or going to my website – www.Pramayhealing.com
Blessing you with abundant Health, Wealth and Divine Protection.
Love,
Chharu.